Custom Softball Rings: Crafting Championship Legacies in Style
As a passionate softball coach, league director, or tournament organizer, the exhilarating task of choosing custom softball ring designs awaits you. With a myriad of options at your fingertips, embarking on this creative journey can be both exciting and overwhelming. 
Let us help guide you through the process and create unique rings that truly embody the spirit of your teams.
Metal Choices that Shine on the Diamond 
When delving into the realm of softball rings, the first decision to make is the choice of metal. There are more options than just gold and silver! Other options include black, gunmetal, or something unique like red or blue toned-metal. 
The metal you select really will set the foundation for the ring's aesthetic.
Stones that Sparkle with Team Pride
In addition to the metal, the selection of stones plays a vital role in bringing your ring to life. Imagine a burst of vibrant colors adorning the ring, representing the team's hues with pride. 
By carefully choosing stones that reflect the team's colors, you can create a dazzling display that captures the essence of victory and camaraderie.
Shapes that Break Tradition and Inspire Awe
Embrace the opportunity to think beyond the boundaries of tradition and infuse your custom softball ring with a touch of innovation.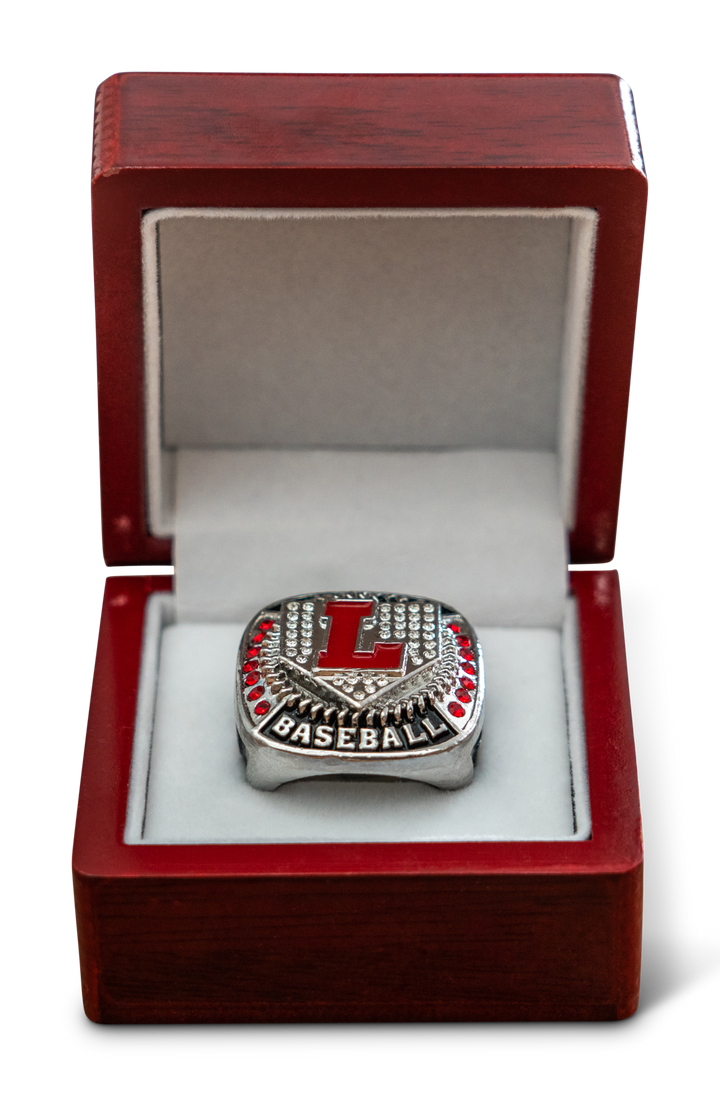 At Ring King, we offer a lot of possibilities from classic round rings to unconventional shapes like baseballs and softballs. Opting for a unique shape will make your softball ring an extraordinary memento, igniting the team's love for the game every time they wear it.
But even if you choose a traditional shape, you can include emblems on your ring including softballs and gloves.
Words that Tell the Story of Triumph
Words that celebrate victories immortalize that feeling for years to come, and your softball ring is the perfect canvas to showcase them. 
Consider including the team's name along with the year of the championship victory, etching the glorious moment into the ring. In the case of tournament rings, you can also incorporate the name of the tournament, the place won, and the year, ensuring that every detail is remembered.
Icons and Emblems that Capture Team Identity
Beyond metal, stones, and words, the inclusion of icons and emblems elevates your softball ring to new heights. Embrace the opportunity to display symbols that embody the sport, such as intricately designed baseballs or softballs, paying homage to the passion that fuels your team. Consider featuring team logos or mascots, showcasing the team's identity and achievements in a truly remarkable way.
Personalization that Celebrates Each Player
Make every player feel truly special by incorporating their names or jersey numbers into the design. Ring King does have these options with their Custom Personalized Rings.
This personal touch not only adds a sense of individuality but also serves as a reminder of the shared triumphs and bonds forged on the diamond. At Ring King, you'll find the option to personalize each ring, ensuring that every player's contribution is honored.
Embark on a Journey of Inspiration
To ignite your imagination and set your creativity in motion, we invite you to explore our gallery of previous designs. You'll discover a range of possibilities, from simple to boldly vibrant. Let these designs spark your inspiration, guiding you toward creating the perfect personalized ring that resonates with your team's unique spirit.
Rely on the Experts to Bring Your Vision to Life
At Ring King, we understand that the design process may seem overwhelming. 
Rest assured, our team of sports ring experts is here to alleviate the burden and bring your vision to life. 
Even if you're unsure of the exact details, our dedicated professionals can provide you with a custom design based on the information you provide. Simply visit our quick quote form, and our team will set to work, helping you design an extraordinary custom softball ring that will exceed your expectations. 
---